Shop a Selection of Y2K Filtration Products
in our Online Store
For Pricing & Application Assistance, Complete Our Request For Quote Form
Y2K designs and manufactures a complete line of filtration and fluid conditioning products used for removing liquid and solid particulate contamination in hydraulic and lubricating oil systems. Along with their standard product line, Y2K also manufactures custom designed filtration equipment to meet the demanding needs of customers. Major markets served include Power Generation, Pulp & Paper, Surface Mining, Food Processing, Plastic Molding, Primary Metals, Construction Equipment, Industrial and Automotive Lubricants, Oil & Gas, Petroleum Refining, and more.
Particulate and Water Removal (free, emulsified, dissolved):
• Single Filter Carts
• Tandem Filter Carts
• Heavy-Duty Filter Carts
• Portable Filter Totes (plastic & metal)
• Filter Platform Carts
• Filter Drum Carts
• Drum Topper Filter Systems
• Hand-Held Filter Systems
• Panel Units & Systems
• Vacuum Dehydration Filter Systems
• Portable Membrane Dehydration Systems
• Fixed & Portable Heavy Oil Filter Systems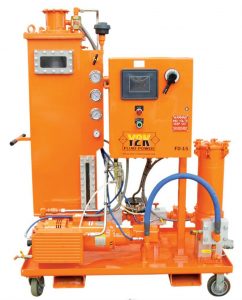 Shop a selection of our Y2K Filtration products online.